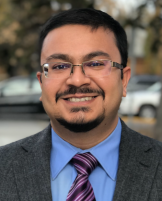 Raied Hasan is working in Calgary as an electrical engineer at Nemalux LED Lighting, an industrial and architectural LED luminaire manufacturing firm. The company's main focus is hazardous location lighting (oil and gas fields, flammable gaseous environments and chemical-rich environments), along with custom architectural projects.
Raied's role is quite diversified within Nemalux LED Lighting. He primarily assists in three different departments: sales, R&D and advanced research. For sales, he assists in preparing bid packages, doing technical reviews, performing lighting simulations and preparing wiring diagrams. For R&D, he is involved in product concept development, product testing and additive manufacturing. For advanced research, he does market research for new and emerging lighting technologies and works on various sealing methods.
Raied obtained his Masters degree in Electrical and Computer Engineering at the University of Calgary, under the supervision of professors Anis Hague and David Layzell.