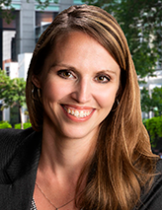 (587) 586-5846 | jessica.lof@ucalgary.ca
Jessica's professional background includes more than 10 years of practical business experience in Canada's railway and trucking sectors. Throughout her career, she has designed transportation and logistics solutions that enable economic potential and drive operational efficiency in a vast array of industries, including wind energy, oil and gas, automotive and global trade.
Jessica has a strong belief that Canada's transportation systems play a crucial role in the shift to our sustainable future; she is determined to help transition our transportation industry to meet the new demands of today and tomorrow. Jessica has recently completed a master's degree in sustainable development. She was able to merge her work experience and academic studies together by completing research that identifies possible low carbon futures for Canada's freight transportation systems by evaluating structural, operational, and technological shifts.
Jessica has Master of Science degree in Sustainable Energy Development, a Bachelor of Commerce degree, and a professional designation with the Canadian Institute of Traffic and Transportation.
After working with CESAR, Jessica took a position as business development manager – hydrogen for mobility at Air Products in Calgary.