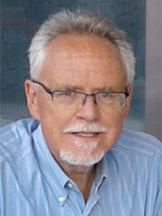 403-861-5169 | geoffgmartin@yahoo.com
Geoff Martin has 40 years of "hands-on" experience in the energy business. He obtained his earth science undergrad degree at Memorial University of Newfoundland in St. John's where he studied geology and geophysics. That led to varied experience in North America, Latin America, the Middle East and Australasia. His exploration experience has covered specific exploration projects in teams, at times mentoring new students, to large regional basin studies for new exploration concept developments. At ease in a competitive, fast-paced, technology0driven environment and a multi-cultural world, Geoff has set up and run challenging technical projects, built business relationships, negotiated contracts and deals, and developed business opportunities. He functions in three languages besides his native English and has studied ten foreign languages to complement his love of international travel, cooking and culture. He has lived and studied in the USA and China, and lived and worked in Australia, Mexico and Saudi Arabia.
Geoff's graduate degree in business was obtained from Thunderbird, the American Graduate School of International Business – now a part of Arizona State University in Phoenix. It was focused on Asia and in particular China. That led to experience ranging from representing a Chinese company in Calgary; business development in the pipeline sector of Latin America; marketing and sales and software demos and training in a small technology start up; VP of a data archive with staff in Calgary and Houston; and the set-up and running of 24X7 data projects, for and inside of, Saudi Aramco (in Dhahran, Saudi Arabia) and Stat Oil (now Equinor), in Stavanger, Norway. He has also advised small and large clients on data management strategies in the Calgary market.
Since late 2015, with some colleagues, he has focused on energy project business development in Latin America, travelling to the region on trade missions in 2016 and 2017.
Geoff also is intensely focused on issues, topics and areas of the "energy transition." What does it mean, how is it happening in the regions of the world, what is the rate of change and how is the "energy game" re-shaping the oil and gas arena and the utility sector? This has involved extensive research, reading and conversations with friends and colleagues in his Calgary network and globally with connections in Asia, Europe and the Americas. He also researches the potential for geothermal.
Since November 2018, he has been spending time with CESAR, continuing to explore the evolution of energy systems and the potential role and growth of hydrogen.