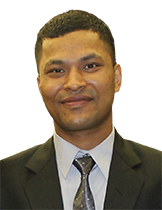 (403) 210-9668 | daya.nhuchhen@ucalgary.ca
Daya Ram Nhuchhen is a mechanical engineer with a specialization in Bioenergy, Waste to Energy, and Sustainability. He obtained a Master's degree in Energy Technology at the Asian Institute of Technology in Thailand, and a doctorate degree (biomass torrefaction) in Mechanical Engineering at Dalhousie University in Halifax, Nova Scotia. He has a keen interest in energy system analysis, energy management, and GHG emission reduction strategies.  
For more than eight years, Nhuchhen has been working in different thermochemical conversion technologies of biomass wood waste. He has experience testing a cogeneration unit using a gasifier engine system, developing torrefaction facilities using rotary and pressurized reactors, and performing microwave-assisted pyrolysis to convert waste biomass materials into bio-oil and biochar. These experiences provided him with a strong technical ability to investigate thermal energy system analysis of different industrial processes in the context of sustainable development. Before joining CESAR's team, he helped, as a freelance consultant, Minas Energy in Halifax, NS, to develop a bioenergy course module for the Energy Project Development Toolkit, a tool for knowledge transfer in developing countries. 
With CESAR, Daya is currently working on the Lafarge Cement Project, which aims to reduce the carbon footprint of the Exshaw cement production plant in Alberta. The project primarily assesses the environmental feasibility to use alternative lower-carbon fuels for the cement production process, by performing life cycle assessment of different non-fossil fuels and then conducting energy system scenario analysis for the Exshaw facility. He is very excited to be a part of the project and be contributing to developing GHG-reduction scenarios for Alberta's cement industry.
Daya Nhuchhen has completed all his PEng requirements and is now a registered engineer.