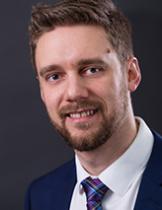 (403) 210-9668 or (403) 850-3363 (c) | cameron.young@ucalgary.ca
Cameron joined CESAR to help create a hydrogen economy in Canada. His work will include research on different pathways for hydrogen production, transmission and distribution to provide pragmatic information for industry and policy makers. He hopes his work will help develop projects that convert Alberta's resources into a sustainable source of hydrogen fuel.
Cameron has a Chemical Engineering & Management double-major bachelor's degree from McMaster University, a Masters in Sustainable Energy Development from the University of Calgary, and is registered as a Professional Engineer with APEGA. He has 10 years of process engineering and project development experience in Alberta's energy sector.