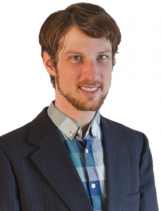 Barend Dronkers is a clean energy consultant who works on renewable energy (pre)-feasibility studies and project development, energy efficiency projects, energy management and community energy planning. Barend currently works as an Analyst at Energy Efficiency Alberta.
He has worked as an advisor to the Pembina Institute's clean economy team, as a sustainability management consultant with Sun Solutions and clean technology researcher at a 'circular economy' startup, Metabolic. At Metabolic, he mapped neighborhood energy flows, including renewable energy project feasibility and demand side management options for Amsterdam's "Circular Buiksloterham" sustainability project.
Barend's expertise includes:
energy systems modelling including energy, lifecycle cost and environmental impacts;
data analytics, continuous business improvement and reporting;
clean energy design, engineering and project management;
clean technology assessment and public communication;
policy research and analysis; and
business development, market research and proposal writing
Between undergraduate and graduate studies, Barend spent a few years in Calgary working for Shell as a heavy oil facilities engineer, volunteering with Engineers Without Borders and starting Calgary's Run to End Poverty. He is a member of the Association of Professional Engineers and Geoscientists of Alberta.
Publications