Posted on Tue, 03/12/2019 - 13:50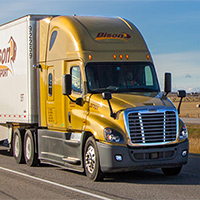 Emissions Reduction Alberta (ERA) is contributing more than $7.3 million to the Alberta Zero-Emissions Truck Electrification Collaboration (AZETEC) project, led by the Alberta Motor Transport Association. ERA is providing the funding through its competitive BEST Challenge program, which targets technologies that demonstrate potential to reduce greenhouse gas emissions in Alberta and secure the province's success in a lower-carbon economy.
The three-year AZETEC project, scheduled to run until mid-2022, involves the design and manufacture of two heavy-duty, extended-range, hydrogen fuel cell electric hybrid trucks that will move freight year-round between Edmonton and Calgary.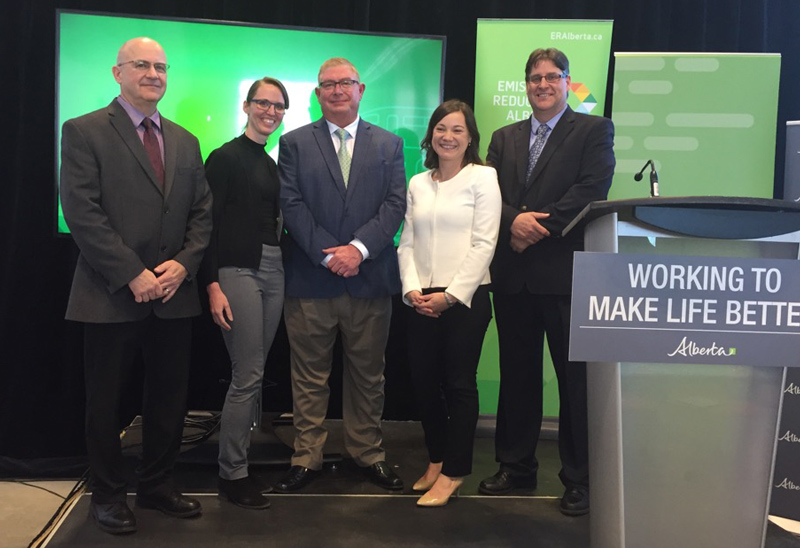 L to R: Real Durand (Bison Transport), Jessica Lof, Andrew Barnes (AMTA), Shannon Phillips, Chris Nash (AMTA)
These 64 tonne, B-train tractor-trailers, capable of travelling up to 700 kilometres between refueling, will be the first vehicles of this size and capacity built and tested in the world. By the end of the project, they will have travelled more than 500,000 kilometres and carried about 20 million tonne-kilometres of freight by two Alberta trucking companies, Trimac Transportation and Bison Transport.
The AZETEC project builds on more than a year's worth of research, data analysis and scenario modelling done by the Canadian Energy Systems Analysis Research (CESAR) Initiative, examining various low or zero-carbon energy systems and the economic opportunity for hydrogen in Alberta (See "Zero-emission Transportation Fuels: Alberta's New Economic Opportunity"). CESAR collaborated with the freight transportation sector, technology providers and other stakeholders in developing, defining and submitting the project proposal to ERA.
Freight transportation accounts for almost 70% of diesel fuel demand in Alberta and contributes about 12 million tonnes of greenhouse gas emissions (GHGs) per year in the province. The AZETEC project will test hydrogen as a zero-emissions alternative to diesel for freight transportation.
If the project is successful it will help reduce greenhouse gas emissions during the pilot, and also inform next steps for Alberta to become a global leader in the transition to a low-carbon economy.
In addition to having zero tailpipe emissions, electric trucks are able to provide higher torque than diesel-fueled trucks, which is useful for pulling heavy loads, accelerating and climbing steep grades. An electric motor paired with a fuel cell system has a more efficient powertrain than a diesel-fueled internal combustion engine. Electric fuel cell hybrid vehicles also are expected to have considerably lower maintenance costs than internal combustion engine vehicles.
The AZETEC project will be managed by Zen Clean Energy Solutions, a Vancouver-based consultancy with a wealth of experience in designing and managing hydrogen fuel cell electric projects. The fuel cell technologies at the core of the vehicles will be provided by Ballard Power in Burnaby, B.C., which will be working closely with Dana Inc., a global leader in heavy-duty electric drive axles, and Nordresa, a Quebec-based electric drive train manufacturer. The tractor bodies in which the hydrogen fuel cell electric technology will be deployed will be provided by Freightliner/Daimler.
Edmonton facilities operated by Air Products and Praxair will provide the high-purity compressed hydrogen. HTEC, based in Vancouver, will deliver their technology to fuel the trucks during the 18-month field trial that will begin as soon as the vehicles are built.
CESAR will coordinate the research and modelling activities around the project, including assessing performance of the technologies, and co-developing with academic, industry and government partners, possible transition pathways for the larger-scale deployment of hydrogen fuel cell electric vehicles and the hydrogen economy in Alberta.
In addition to the Emissions Reduction Alberta contribution, support for CESAR's work will come from the Transition Accelerator , and the Energy Futures Lab (EFL). CESAR, the Transition Accelerator and the EFL will be partnering to bring together and support innovators who share a vision for a vibrant Alberta economy based on the production, use and export of very low or zero-emission transportation fuels.
Alberta's hydrogen opportunity
Concerns about climate change and air pollution are driving companies, cities and nations to find alternatives to internal combustion engines and the gasoline and diesel fuels they use. Alberta's oil production currently provides markets with about nine times more diesel fuel than the amount consumed in the province. So if there is an energy transition away from diesel fuel to zero-emissions fuel, CESAR's analysis shows it would be in Alberta's best economic interest to be able to supply this new market, while continuing to supply oil for the remaining diesel fuel market.
Hydrogen is the most promising zero-emissions fuel, and Alberta is already a major producer of hydrogen for cracking hydrocarbons and producing nitrogen fertilizer. Extending the hydrogen market to transportation fuels offers an exciting new economic diversity and export opportunity for Alberta, while reducing GHG emissions and positively positioning the province should there be a decline in future diesel demand.
Compared with other regions of North America and the world, Alberta has a competitive advantage for the production of hydrogen as a zero-emission transportation fuels that includes:
Vast, and under-valued, natural gas and crude oil resources that are an excellent feedstock for the low-cost production of hydrogen;
The geology that can either use the byproduct of hydrogen production – carbon dioxide – for enhanced oil recovery or provide a permanent, safe, underground storage site for CO2;
Plentiful, low-cost wind and solar power potential that can be used for electrolytic production of hydrogen; and
Superb technical and human resource expertise and an innovative spirit.
Taking full advantage of this opportunity will require rapid, transformative changes. These changes– like those seen in digital information and communications technologies –typically result from technology, business model or societal innovations that provide totally new services, enhanced convenience, comfort or efficiency, or reduced costs leading to a better return on investment for stakeholders.
Such transformative forces – including disruptive technologies like electric, connected and autonomous vehicles – are currently at play in North America's freight transportation sector. Freight transportation is an essential service in Alberta to facilitate economic growth. By coupling smart policy and regulations with heavy-duty vehicle electrification (specifically hydrogen fuel cell electric drive trains), Alberta can direct the market pull necessary for transformative systems change and to remain a key supplier of transportation fuels well into the future.
---
For more information, contact:
Jessica Lof, CESAR energy systems analyst and networking lead on CESAR's "Future of Freight" project that gave rise to AZETEC.
P: 587-586-5846
E: jessica.lof@ucalgary.ca