An Overview of BIOCAP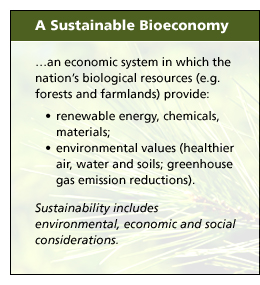 The BIOCAP Canada Foundation engaged diverse stakeholders in developing integrated solutions to address major challenges of the 21st century: climate change and clean energy. BIOCAP's programs provided solutions to deliver new forms and sources of clean energy, short and long term domestic strategies to reduce greenhouse gas emissions, and opportunities via new products and markets for rural economic development across Canada.
The Foundation was recognized nationally and internationally as a lead, arm's length organization facilitating Canada's transition to a sustainable bioeconomy. BIOCAP has a proven track record in stimulated innovation, integrated insights and technologies from diverse sources and transferred knowledge to inform policy and investment decisions in government and industry.
BIOCAP's Impact
When BIOCAP was founded in 1998, there was little work being done in Canada to understand and manage biological carbon and nitrogen cycles, to mitigate biosphere greenhouse gas emissions and enhance carbon sinks in forests and agricultural soils or to develop sustainable biomass energy technologies and implementation strategies.
With the initial support of a number of forward-thinking, environmentally-conscious companies, BIOCAP was charged with stimulating R&D investment in these areas and raising awareness of how Canada's vast biological resources could be used to address major challenges associated with climate change and clean energy. By attracting provincial and federal support for its programs, BIOCAP will have invested approximately $8M into university research. This investment has leveraged additional funds to deliver a total research program valued at $52M (cash) and has supported more than 280 faculty and more than 400 graduate students at 36 universities across Canada.
To coordinate and focus the research effort, BIOCAP was instrumental in either setting up or expanding the scope of a number of national research networks, including Fluxnet Canada Research Network, Greenhouse Gas Management Canada, the Green Crop Network, Sustainable Forest Management NCE and the Auto 21 NCE. BIOCAP has also played a leadership role in establishing the framework and providing the forums for a number of emerging networks. We are delighted that the research insights generated by these and other BIOCAP investments, as well as the synthesis and integration work done within BIOCAP itself have greatly influenced policy and investment decisions by governments and industries across Canada.
Today, provincial and federal governments have recognized the importance of research investments in many of the areas critical to a sustainable bioeconomy and have launched their own grant programs involving hundreds of millions of dollars. We think it is fair to say that BIOCAP played a critical and important role in helping to create the demand for these investments, and the capacity of the university research community to deliver on them.